Sunway, July 20, 2011
"Congratulation for the graduates of MUFY July 2011"
A year ago I was this girl who just came to Malaysia on hope for a better high school life. That girl brought new hope and vision, and tried to left every bad things behind. Now this girl just graduate from Monash Foundation, officially, after a year of struggling in a place that so far from home. She knows that her fight has not come to an end, but she feel quite proud of herself, she could prove to her family and most importantly to herself that she can do better than what people think of her.
Photo courtesy of Khor Lin Hui
Together with fellow MUFYns, I went to Grand Ballroom Sunway Resort Hotel for the graduation ceremony. I chose to be in a maxi batik dress, proudly represent my country's heritage. The dress I wore is tailor made, and the design is as I requested, which a bit inspired by Ina Thomas's dress that I saw in google. It was perfectly fit me, but then became loose as I lost few kilos.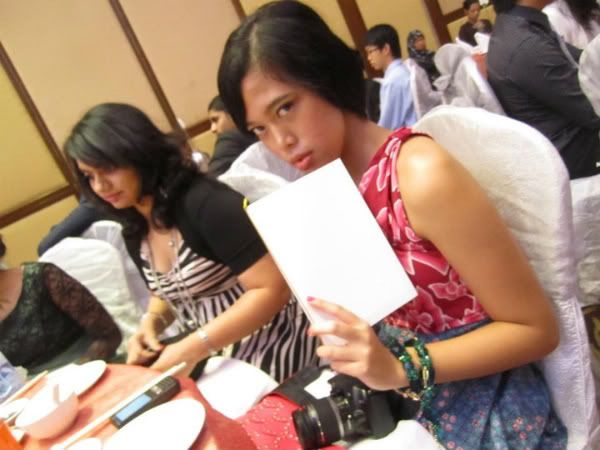 photo courtesy of Khor Lin Hui
I did my own hair and make up as I felt too troublesome to go to salon. With no car, and only public transportation and pedestrian that is available, I find it uncomfortable to have my hair and make up done outside my apartment building. So grateful it turned out to be nice, especially in the picture :)
Photo courtesy of Nina MRD
While the ceremony was on going, we were served with non-stop delicious dinner. I had to try so hard to hold myself from eating too much, but then suddenly I stop as I was no longer able to eat as they started to serve seafood. I love seafood, but I cannot eat seafood :( The ceremony finished at 11, but as usual, we were still busy taking pictures with each other until past 12, which resulted in too tired for after party as well. I wanna share my joy with you, so if you are pretty curious the pictures I took or have, you can click here or here. It's too much, 1 album is not enough :)
Anyway, have a great future all MUFYns July 2011. See you in university, or maybe when we have become successful people.